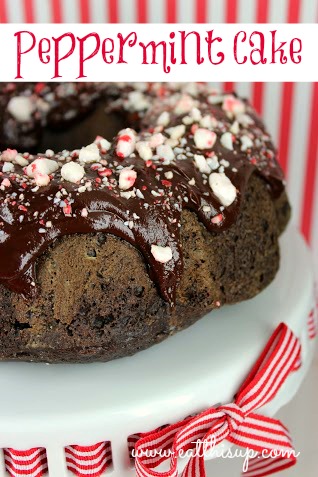 Chocolate Peppermint Cake is a great way to use that bundt pan you have sitting in the cupboard that you never use 🙂 If you are like me I pull it out just a few times a year.
This is a super simple cake that can be make in a 9×13, but to make it extra special and for a really nice presentation at Christmas time, use that bundt pan!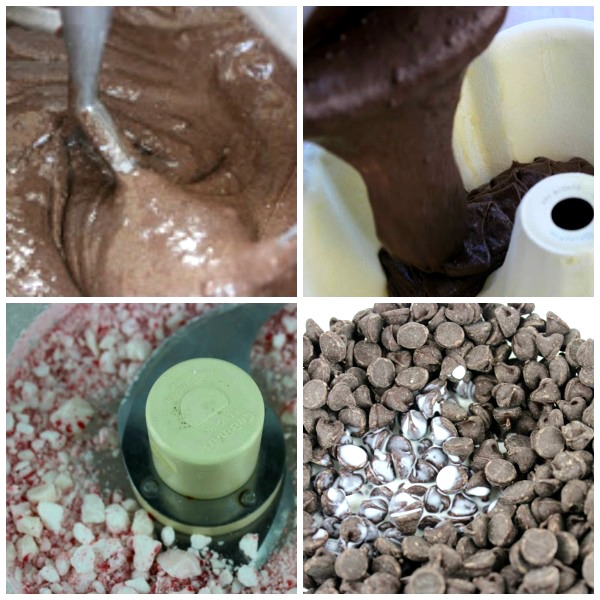 This cake is super easy because you can use a cake mix to save some time. Of course if you have an awesome chocolate cake recipe you can use that in place, then just add the peppermint.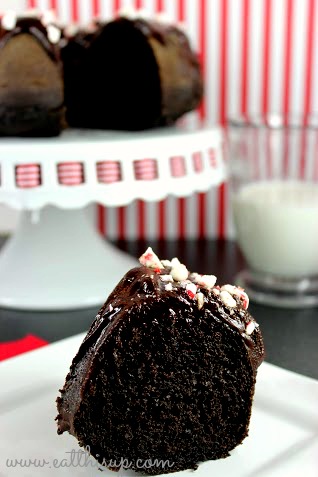 Chocolate Peppermint Cake
Author:
Tiffany Ivanovsky
Simple chocolate peppermint bundt cake made with a cake mix.
Ingredients
1 box Dark Chocolate Cake Mix (I used Pillsbury Moist Supreme)
3 Eggs (follow box)
1 cup Water (follow box)
⅓ Cup Oil (follow box)
1 tsp Peppermint Extract
8 oz Semi Sweet Morsels
4 oz Heavy Cream
10 Peppermint candies
Instructions
Follow Box directions to mix cake for bundt pan, but add peppermint extract to batter.
Bake according to box directions.
Place morsels in microwave safe bowl.
Add heavy cream.
Heat in 30 second increments and then stir until shiny and well blended.
If mixture seems too thick add a bit more cream.
Drizzle chocolate ganache over cake allowing it to drizzle down sides.
Crush peppermint candies in food processor.
Sprinkle over chocolate ganache as a garnish.