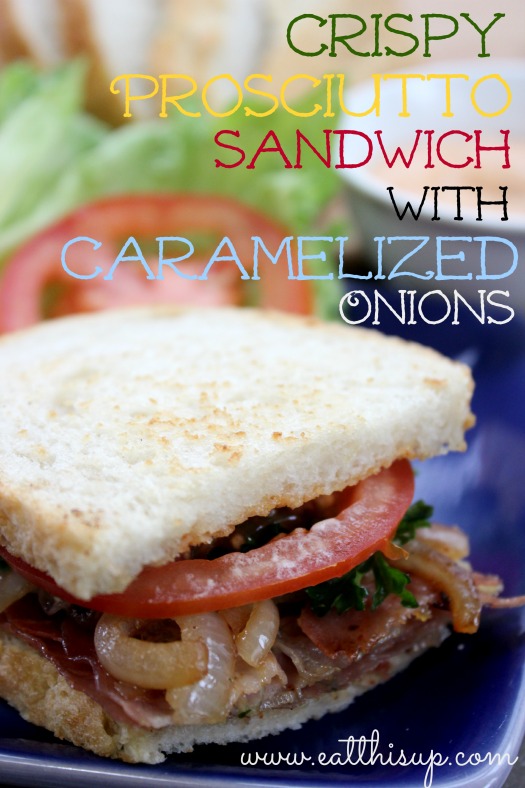 Forget your regular BLT sandwich, try this crispy prosciutto sandwich with caramelized onions instead!
It takes just a few minutes to mix up the sauce, but it is so worth it! Toss it in the fridge and use it on other sandwiches as well.
The problem in my house, is that all the prosciutto kept getting eaten as I was cooking it up!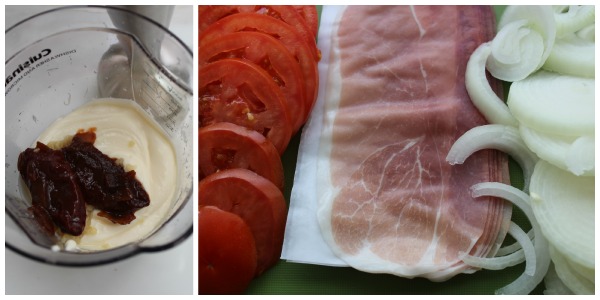 Crispy Prosciutto Sandwich
Author:
Tiffany Ivanovsky
Ingredients
4 slices Sourdough bread
8 slices Prosciutto
1 small Onion Sliced
1 ibsp Olive Oil
1 Tomato Sliced
several sprigs of parsley
Chipolte Aoili:
8 oz Mayonnaise
1 tsp minced Garlic
1½ tsp Chipoltle Pepper in Adobo
Instructions
DIRECTIONS
Blend Mayonnaise, chipoltle and garlic. Place in refrigerator for at least one hour.
Toast bread and spread with aoili.
Heat olive oil in skillet over medium high heat.
Place prosciutto in skillet for about 2 minutes until it is crispy.
Place 4 slices of meat on each sandwich.
Place onion in pan and cook until onion is caramelized.
Place onion on top of prosciutto.
Top with several sprigs of parsley and tomato slices.