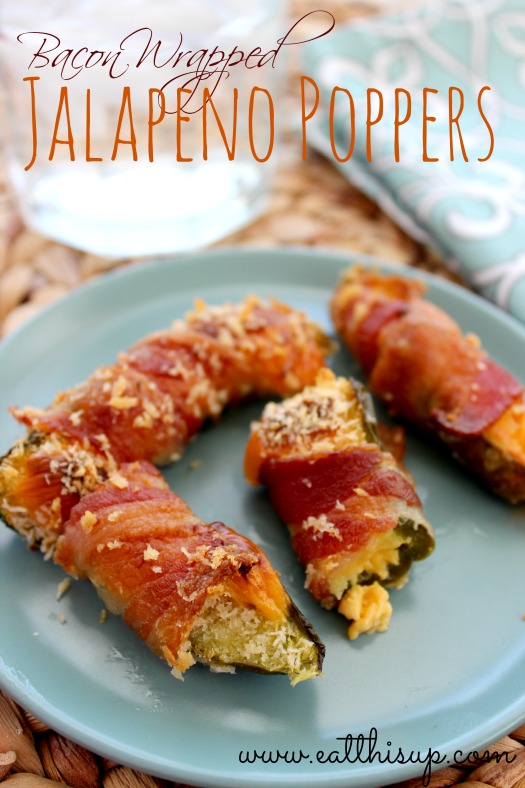 Jalapeño Poppers with Bacon is one of my husbands favorite things to have while watching a football game. I don't make them all the time because personally I don't like jalapeños that much 🙂 BUT, I know how much he loves them so I made them for him this week!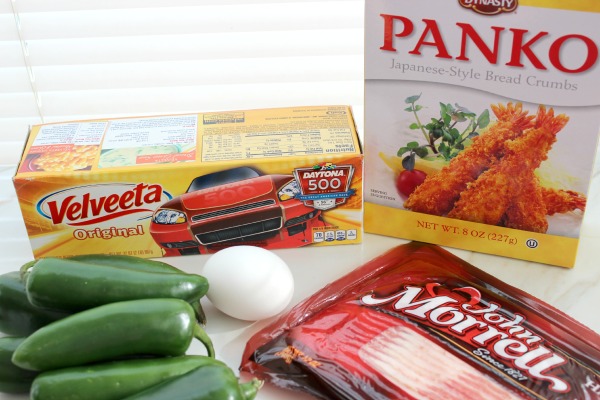 The ingredients are easy and super simple. I don't like having to hunt down a weird ingredient in the store, I try and keep it simple.
There was allegedly a shortage of Velveeta this year, although I only ever saw stacks and stacks of it at the store. Maybe just a rumor so you buy more?! 
Remember that you can ALWAYS wear gloves when working with jalapeños, and wash everything really well so you don't end up rubbing your eyes or anything. Because that is not a great feeling…
Also, the seeds are what are really spicy in jalapeños, so make sure you remove those. Otherwise this is a pretty straightforward and not difficult recipe.
* One tip is to use a toothpick to told the bacon around the jalapeños if you need.
Jalapeño Poppers Wrapped in Bacon
Author:
Tiffany Ivanovsky
Ingredients
1 lb Velveeta
12 Jalapeno Peppers
4 oz Panko Bread Crumbs
2 Eggs
Instructions
DIRECTIONS
Preheat oven to 400.
Mix eggs and ¼ cup water in bowl to make egg wash.
Cut jalapenos lengthwise, remove seeds and white membranes with a spoon.
cut Velveeta into 24½" x ½" x 3″ strips.
Dip Jalapeno half and cheese strip in egg wash.
Sprinkle with and roll in panko crumbs.
Wrap in ½ strip of bacon and place on baking sheet.
Bake for about 30 minutes or until bacon is crispy.