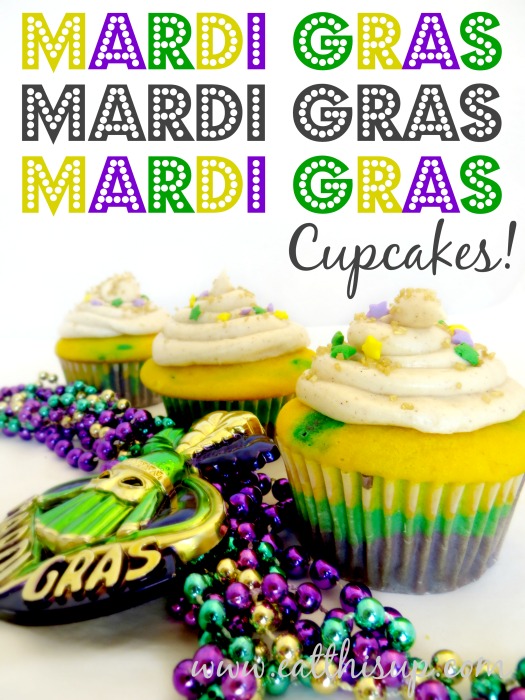 Mardi Gras cupcakes are a tradition in our family, just like heading down to Galveston is each year for the parades! Easier than making a King Cake, the kids are just as happy, and if you can find a baby to put on top, all the better!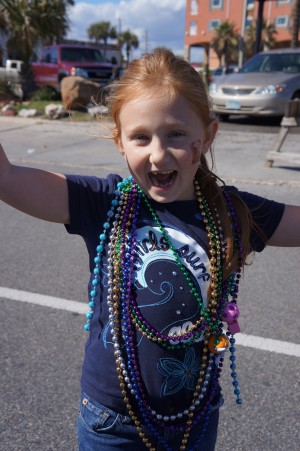 My thrilled 8 year old showing off her beads!
Even my dog, Miller gets into the fun. He looks thrilled doesn't he?!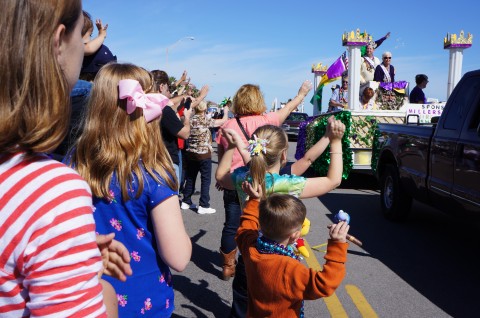 There are a lot of family friendly events you can go see, I wrote up a quick post HERE and HERE over on MyLitter for you to check out.
Anyway, back to the cupcakes….
Basically, you just want to get the 3 Mardi Gras colors represented! Layering them in the cupcake wrappers, makes a nice presentation. I also buy the King Cake babies to add to the top, they are not shown here because they have not come in the mail yet, but you can order them HERE.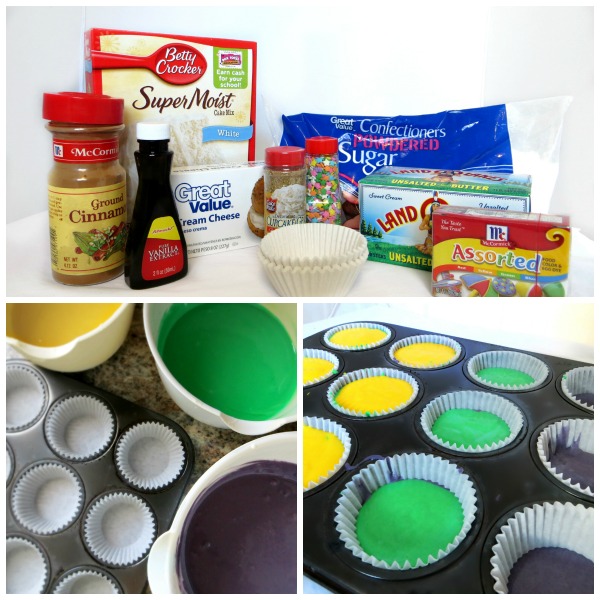 Mardi Gras Cupcake
Author:
Tiffany Ivanovsky
Mardi Gras Cupcakes with Cream Cheese Frosting
Ingredients
1 box of white cake mix (plus ingredients called for on the box, i.e. eggs, oil & water)
Food coloring in purple, yellow/gold, and green
1 8 oz. package of cream cheese, softened
¼ cup softened butter
1 teaspoon vanilla extract
½ teaspoon ground cinnamon
3 cups confectioners' sugar
Sprinkles
Instructions
Make cake batter according to box instructions. Evenly divide batter into 3 separate bowls and use food coloring to color 1 bowl purple, 1 green and 1 gold. For bolder colors, use more food coloring. Starting with the purple, place a little batter in each of the 12 muffin cups lined with cupcake liners. Then layer green, followed by gold. Fill batter until it's just below the top of the cupcake liner.Bake cupcakes according to box instructions. Allow to cool before frosting.
To make frosting: use an electric mixer to cream together cream cheese and butter. Mix in vanilla extract and cinnamon. Gradually add confectioners' sugar. Frost all cupcakes and top with coordinating colorful sprinkles.