I wish I could remember who taught me how to make Parmesan Rhodes Rolls, I know it was when I was in college and I think it was my roommate Lisa. But I can't be sure.
If you have not tried Rhodes rolls, you are missing out. They are delicious. You buy them in the freezer section of the grocery store and just follow the directions on the package. They are the closest to homemade you can get and your house smells AWESOME when they are cooking.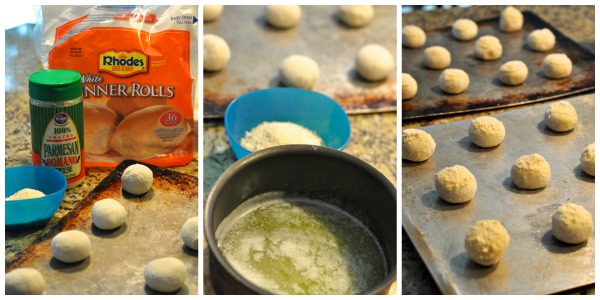 To make them a little fancier… just melt some butter and grab some parmesan cheese. The kind in the green can is acceptable. Grease a cookie sheet and start an assembly line. While the rolls are still frozen, dip the top into melted butter and then dip into the parmesan. Place them on the cookie sheet and cover with saran wrap like in the directions. Follow the directions on the package from here. Which should have you let them rise about 3 hours and bake at 350 for 12 minutes.
These are super simple, my kids make them all the time.