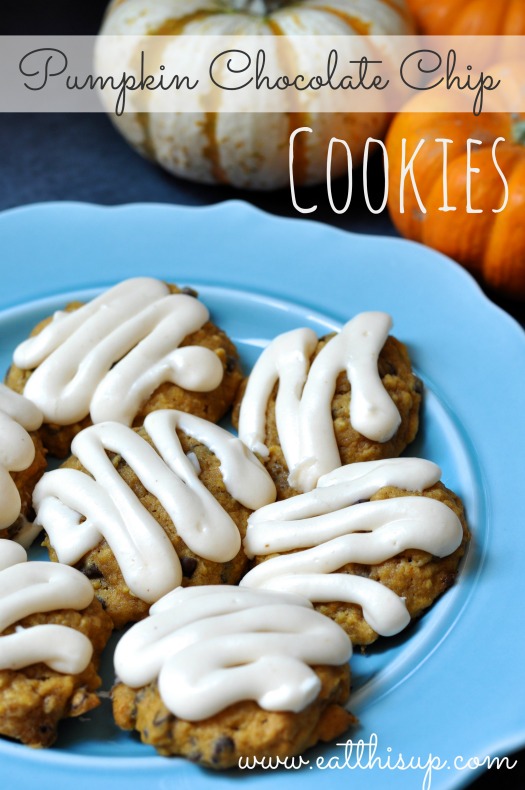 Pumpkin Chocolate Chip Cookies are a family favorite this time of year. The kids expect them, and I love to make them. This is really the only pumpkin recipe that I like chocolate in, and for my taste I have to use the mini chocolate chips.
Also, I happen to like then cake like, it just seems like tradition to me. If you like more of a cookie texture, like a regular chocolate chip cookie, try replacing the pumpkin with eggs. I have only tried this once, but I left out the eggs and just used pumpkin and they had more of a typical cookie texture. *Just a tip!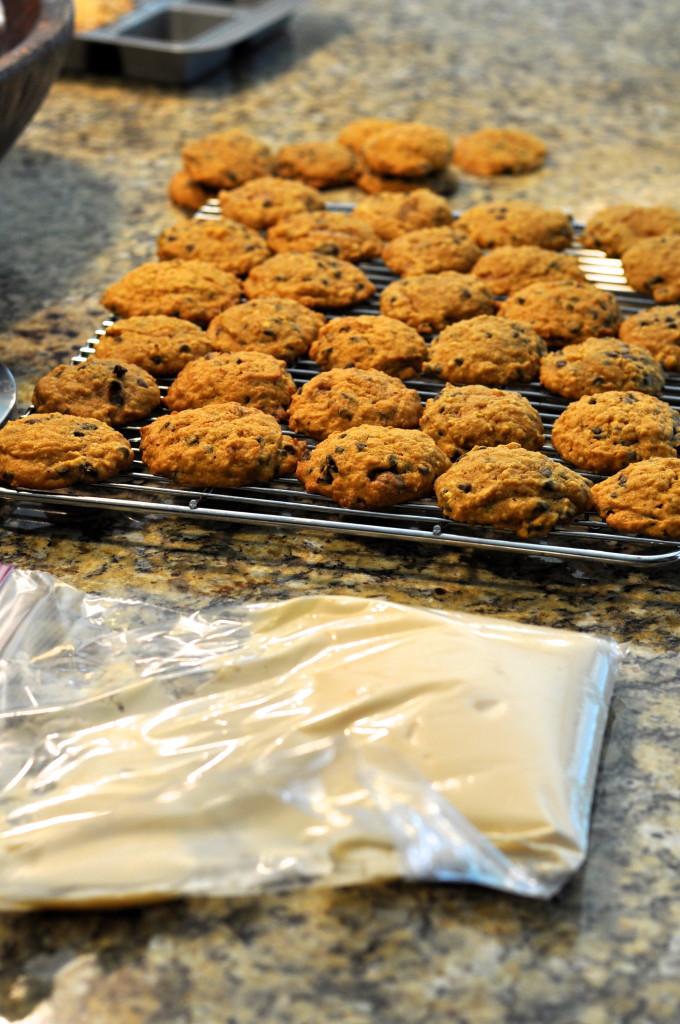 The other reason I love these is I get to add mounds of cream cheese frosting and let the kids do it. If I am feeling like a really good Mom, I let them go at it with a knife and bowl of frosting. If we are giving any away, I have to do a few myself, so they are more…. presentable!
I usually just add all the frosting to a ziplock bag, snip off the corner, and squeeze it on that way. Easy!
These freeze very well, and store in the fridge for 5 days. Perfect to make ahead for company!
Pumpkin Chocolate Chip Cookies
Prep time:
Cook time:
Total time:
Yummy Pumpkin Chocolate Chip Cookies
Ingredients
1 cup canned pumpkin
1 cup white sugar
½ cup vegetable oil
1 egg
2 cups all-purpose flour
2 teaspoons baking powder
2 teaspoons ground cinnamon
½ teaspoon salt
1 teaspoon baking soda
1 teaspoon milk
1 tablespoon vanilla extract
2 cups mini semisweet chocolate chips
½ cup chopped walnuts (optional)
Instructions
Combine pumpkin, sugar, vegetable oil, and egg in a bowl. In a separate bowl, stir together flour, baking powder, ground cinnamon, and salt. Dissolve the baking soda with the milk and stir in. Add flour mixture to pumpkin mixture and mix well.
Add vanilla, chocolate chips and nuts.
Drop by spoonful on greased cookie sheet and bake at 350 degrees F (175 degrees C) for approximately 10 minutes or until lightly brown and firm.