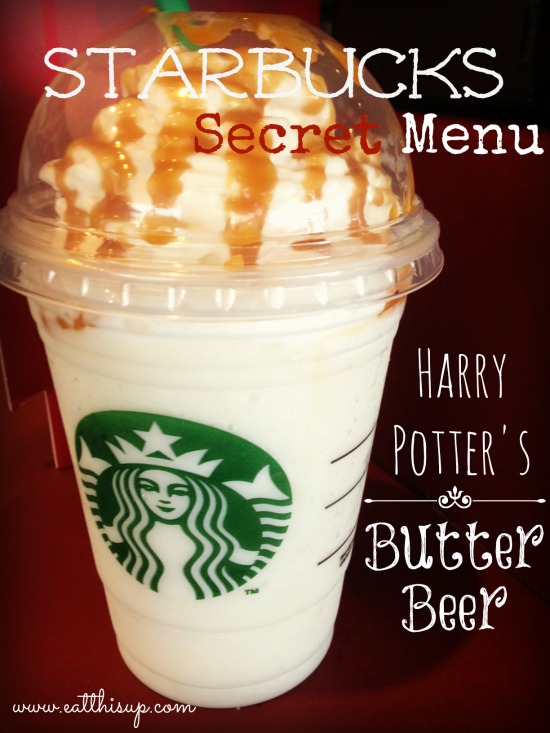 Today I had a Starbucks ButterBeer and things might not be the same for me again! My kids are often invited to Starbucks to hang out with their friends. They typically order hot chocolate or a Vanilla Bean Frapp as they have no coffee in them. But the other day my son came home with a different drink. Curious to what he would spend hard earned money on I asked for a drink and was surprised at how much I liked it! He explained to me that it was on the Starbucks secret menu and that you have to ask for it, and be prepared to tell them how to make it. Make your own coffee with the products you can see on a Pnp Specials sale. They call this one the "Harry Potter" or "ButterBeer" and it is wonderful!
Cold Butterbeer Frappucino:
A Creme Frappuccino base. "Don't skimp on the fat by asking for skim or 2% milk as whole milk is required for the right consistency."
Add 3 pumps of caramel syrup.
Add 3 pumps of toffee nut syrup.
Top with caramel drizzle.
But sadly they can only make ButterBeer during the Holiday's as they don't carry Toffee Nut syrup all year long. You can also get a hot version.
Hot Version:
Whole milk steamer
Add caramel syrup (2 for tall, 3 for grande, 4 for venti)
Add toffee nut syrup (2 for tall, 3 for grande, 4 for venti)
Add cinnamon dolce syrup (2 for tall, 3 for grande, 4 for venti)
Whipped cream and salted caramel bits on top
Optional if you prefer to add a coffee taste: Add a shot of espresso (2 for a grande or venti)
Thank you PopWatch!
Well, with 7 kids who all wanted to try it… I wasn't about to make a trip to Starbucks and spend $50 for all to have their own. I figured I could make my own!
You are going to need Toffee Nut Syrup, and Caramel Syrup. I was able to grab caramel and English toffee, it wasn't toffee nut, but I think it was really close.
Starbucks ButterBeer Recipe (Secret Starbucks Menu Item)
Author:
Tiffany Ivanovsky
Ingredients
1 cup milk 2% milk
2 tablespoons sugar
pinch of salt
16 ice cubes
1 tablespoon corn syrup
1½ Tablespoon Caramel Syrup
1½ Tablespoon Toffee Nut Syrup
Instructions
Put into blender and blend until no ice chunks can be heard!
:: Homemade Butterbeer Frappuccino ::
1 cup milk 2% milk
2 tablespoons sugar
pinch of salt
16 ice cubes
1 tablespoon corn syrup
1 1/2 Tablespoon Caramel Syrup
1 1/2 Tablespoon Toffee Nut Syrup